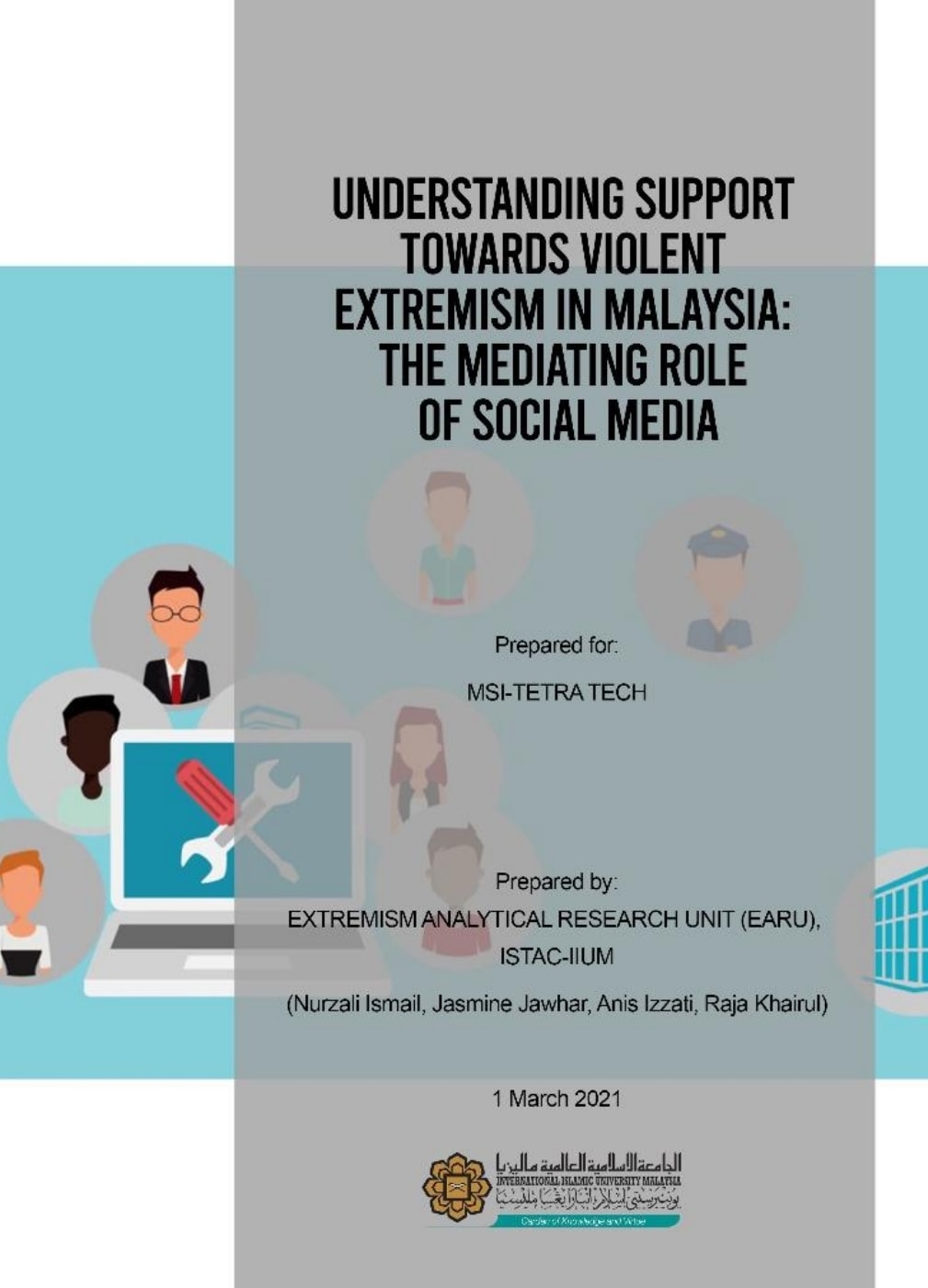 UNDERSTANDING SUPPORT TOWARDS VIOLENT EXTREMISM IN MALAYSIA: THE MEDIATING ROLE OF SOCIAL MEDIA
Prepared for: MSI-TETRA TECH
Prepared by: EXTREMISM ANALYTICAL RESEARCH UNIT (EARU), ISTAC-IIUM
(Nurzali Ismail, Jasmine Jawhar, Anis Izzati, Raja M.K. Akhtar)
Keywords: Social Media, Support towards VE, VE propaganda, Technological Acceptance Model (TAM)
For full access of the article, please email us at ………
Introduction
The Internet is an effective tool for learning, dissemination of information, communication, social networking and electronic commerce, to name a few. However, the Internet, particularly through social media, has also been the source of disinformation, hate speech and the spreading of violent extremist propaganda.
The use of social media to spread such information is also apparent in Malaysia. A significant number of those arrested for terror-related activities have been found to use social media to communicate, spread propaganda and recruit supporters and sympathizers.
This is of great concern given that Malaysia ranks first in Southeast Asia for social media penetration in 2020 – with youth being among the main consumers of social media platforms. The projection for the following years is only showing an increasing trend.
In this respect, there is a strong need to first understand how youth perceive social media. This is particularly important for policymakers and practitioners to develop a more robust strategy in countering the use of social media by violent extremists and terrorists to target youth. However, a lack of understanding of the mediating role of social media in support of violent extremism will only hamper the development of robust and tangible strategies.
This current study, therefore, attempts to add to the existing body of knowledge by adopting an interdisciplinary approach. The study will adopt a method in the information and communication field – the Technological Acceptance Model (TAM) – to examine the role of social media in the support towards violent extremism among youth in Malaysia.
Objectives
The objectives set out for this study are as follows:
To explore the kinds of social media that are used by Malaysian youth and the purpose of use:
To analyse the mediating role of social media in providing support towards violent extremism (henceforth refers to as VE) among youth: and
To propose a model of understanding the role of social media in providing support towards violent extremism among youth.
Method
For the purpose of this study, TAM is used to identify subjects' 'perceived usefulness' and 'perceived ease of use' towards social media as well as their attitude and support towards violent extremism.
The study involved 400 youth between 18 and 34. The subjects were asked to respond to a five-point Likert Scale questionnaire based on the TAM. The sample is chosen at random to include the different demographics in Malaysia. The study involves subjects from Peninsular as well as Sabah and Sarawak.
Findings  
50% of the respondents used social media to get the latest news and information. Other purposes for using social media include entertainment, learning, as well as, building and maintaining relationships.
The study found that youth liked video content the most, and this was followed by written content, infographic and images.
'Perceived ease of use', or the perception of how technology can be easily used as an important factor that can influence attitude and support towards violent extremism (VE) on social media.
'Information/argument quality' was found to be the strongest predictor for both attitude and support towards VE on social media.
Conclusion
The study found that the quality of information or argument – regarded as the mediating variable – is highly significant in determining attitude and support towards VE. In addition, the perception that technology is easy to use also influences attitude and support towards VE. This is particularly concerning as it is widely known that extremist and terrorist groups are savvy in using technology and cunning in their approach to garner support among the youth through social media platforms.